Head Multisport Coach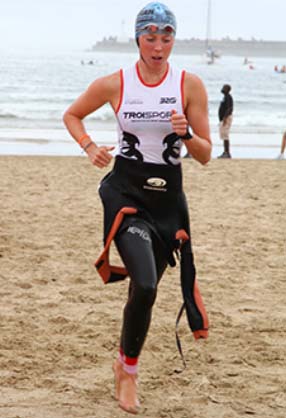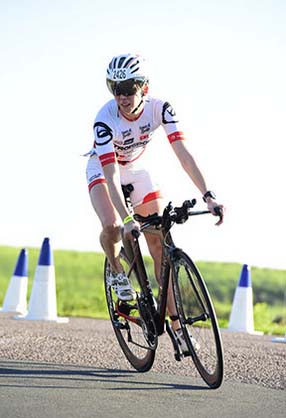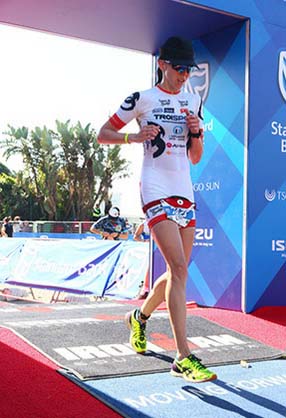 Lynette Cronk is the founder and Head Multisport Coach at Ultimate Sports Coaching. She is an ex professional triathlete since turning to the role of a wife and a mom in 2017. Being a wife and mom has given her understanding of the importance of balance in training, coaching and family while pursuing personal sporting goals. Lynette has a thorough knowledge of Coaching Science having studied it and also coaching for over 10 years. She is a firm believer in expanding her knowledge so she continues to pursue exercise, sport, nutrition and related studies. She was a provincial and junior South African netball player before pursing triathlon. Her aspiration is to be an ambassador for sport in South Africa not only as a pro-triathlete but as a coach. Her interests as an athlete are half and full Ironman distances and endurance running events – particularly - Comrades.

Lynette has coached many athletes of all levels and calibre and she believes her success comes from true commitment to each athlete.

"Every athlete is unique, we are not the same and can therefore not be coached the same. I look at an athlete as an entity thereby not only working on a personalized training programme but I also give attention to their nutrition (daily, training and racing), strength and core training (imbalances), how they recover, how prone to injuries they are, how much time they have available (work, family and sleep) and mentally (coping skills, stressors, race pressure)" – only then do you have a clear picture of who you are working with! Anyone can "coach" generically but it takes a Real coach to ensure the longevity of an athlete – that's my job, and I take it very seriously!

My philosophy is "If it doesn't challenge you, it won't change you." – Lynette Cronk

Download Lynette's sports resume here
Qualifications
United States of America Level 1 Triathlon Coach – 2020 (USAT)
Basic Life Support and AED - 2020
Foundations of Heart Rate Variability – 2020 (Elite HRV)
Australian Level 2 Track and Road Coach – 2020 (Cycling Australia)
Triathlon South Africa Level 2 Coach – 2016 (TSA)
Ironman Certified Coach – 2016 (IMSA)
Applied Sports Psychology and Peak Performance Coach (HFPA) – 2016
Training Peaks Level 2 Certified Coach 2015
CPR and First Aid Level 1 - 2014
Advanced Spinning Instructor (Cycle Lab) - 2013
International Triathlon Union Level 1 Coach – 2010 (ITU)
Advanced Pilates Mat and Equipment – 2009 (Trifocus)
Advanced Power Plate Instructor – 2008 (HFPA)
Sports Massage – 2008 (HFPA)
Pre and Post Natal – 2008 (HFPA)
Advanced Exercise Specialist – 2008 (Health & Fitness Professional Academy)
Coaching Science – 2007 (Exercise Teachers Academy)
Philosophy
MY ROLE AS A COACH
I coach to educate my athletes in the best way I can. I coach triathlon and multisport because I love the sport. It's important for me to be highly skilled and educated in my field because I believe I need to be the best coach I can be. I want my athletes to be confident on race day and I coach them in such a way as to build confidence. I coach with integrity and respect. I expect my athletes to be honest with me as I with them. I expect them to have respect for their races and I hold them accountable for their goals they have set out for.

I believe in:
Goal setting
Being a proper ambassador for sport in South Africa
Being open and honest
Having clear communication lines with my athletes
Building confidence
Improving skills
Being consistent
Practice makes perfect
Being patient
Feedback from both coach and athlete
Having structure or purpose with the end goal in mind
Growing as a coach through continued education
COMMUNICATION STYLE
I possess an assertive communication style. I am an effective listener. I clearly state my expectations and I am very realistic. I believe in SMART goals. I am goal driven. I show empathy and I help where I can. I can be quite strict when athletes fall off the wagon and I remind them constantly about their goals and what is required of them to achieve those goals. I demand feedback and constant communication for best results. I am sensitive to people's feelings as I discern well and I therefore approach situations with the utmost respect.
PREFERRED ATHLETE I COACH
I currently coach all levels. I am not a cheerleader so I don't chase up and down after athletes. I motivate them up to a point but believe they need to bring their side of the plate. I do look for the more 'serious' athlete who are committed to improving and thus committed to their goals.
Most of us also have other daily chores—career, yard work, family, social activities, and other events that take our time and energy. Endurance sports are not separate from these other activities; balancing everything in our life is vital to building and maintaining the endurance we'll use for training and competition. – Philip Maffetone
Achieve your goals
Continuous effort — not strength or intelligence — is the key to unlocking our potential. - Liane Cardes
Accreditations